Wood the material of the past AND the future!
Posted on 22nd March 2021

Concrete has for a long time been the go to construction materials for our cities and infrastructure across the planet sadly but now from a sustainability perspective surely it's time to move on?
For generations past the world was made of wood. Weapons, wheels, homes, tools, all were plant derived. With construction responsible for a huge part of our planet's pollution and climate demise it is refreshing to learn that a "growing" industry wants to bring back a world of wood and this starts surprisingly with our future cities being grown!
The cities of the future will house 75% of the world's population in predicted safe, efficient and sustainable wood buildings. There will be an obvious need for large and tall buildings and it is vital that this is done sustainably. Cities of the future will feature high-rises built from wood. 
Constructing with wood is a chance to decarbonise. CLT, cross-laminated timber is formed by layering inch thick strips of wood to form a solid block. Glu-lam is used to make structural beams and LVL is laminated veneer lumber which makes heavy beams and can be used to form the skeleton of a building.
All the above materials use less carbon than concrete and also lends well to modern architecture. Mass timber is easier to customise and prefabricate than steel or concrete, it allows for faster construction and lower labour costs.
Concrete in its production consumes large quantities of fossil fuels and as we know releases dangerous levels of CO2 into the atmosphere. Wood however is simply derived from CO2, sunlight and rain. 
Wood as a building material is extremely versatile, safe and easy to specify. It is economically competitive for large structures such as stadiums, halls and even swimming pools. It is lighter in weight than concrete but has exceptional strength and rigidity. 
Architecture is rapidly rediscovering wood and there are now countless examples across the globe of successful homes and structures. The Hoho in Vienna has a height of 84 meters and the Mjostarnet in Norway stands at 85 meters, currently the highest wooden building in the world.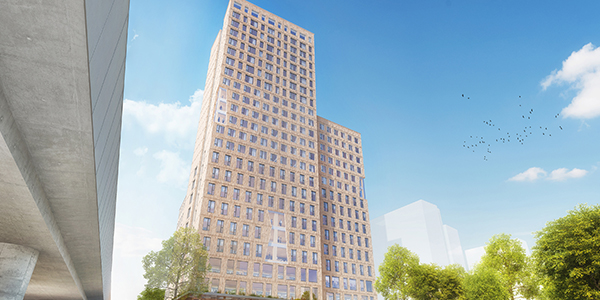 Hoho Vienna (Source:https://archello.com/story/42393/attachments/photos-videos)
Spruce as a building material has many advantages, it grows readily and most importantly straight! allowing for a more economical yield. It is easy to process, easy to glue and has a good range of natural properties including insulation and acoustics. Wood can create a more physically, psychologically, and aesthetically healthy built environment. It can be left exposed in mass timber buildings and large expanses of exposed wood are unquestionably beautiful. It has an appealing primal quality that gives us the all important connection to nature. 
The need to transform our urban areas into healthy places is upon us, how can we use our environment to make our lives and cities healthier? Research consistently points towards nature. It is time to reallocate our concrete spaces to that of greenery. Our buildings to that of wood. 
Both green spaces and sustainable buildings will help mitigate the harmful effects of pollution and make our cities more liveable and living.
Bailey Street Furniture Group offers the combination of innovative design, clever solutions and smart technologies for our urban regeneration and reallocation needs. BSFG believes that investing in well designed unrestricted urban spaces is vitally important, our immediate surroundings and environment benefit our quality of life and promote a healthier future that we all so depend upon.
Using world class design teams and utilising environmentally sustainable materials in conjunction with leading edge technology, Bailey Street Furniture Group create inspiring integrated urban furniture with our future needs in mind.
For more information on BSFG please contact their team on 01625 322 888 or email www.bsfg.co.uk