Key Considerations For Campus Design at Higher Educational Facilities
Posted on 4th May 2022

Since our inception almost 20 years ago Bailey Street Furniture Group have gathered a wealth of experience and knowledge working with the UKs largest construction companies and educational facilities.
Higher Education is a central pillar of society, it's important that these institutions both inside and out offer a harmonious and supportive environment to the students.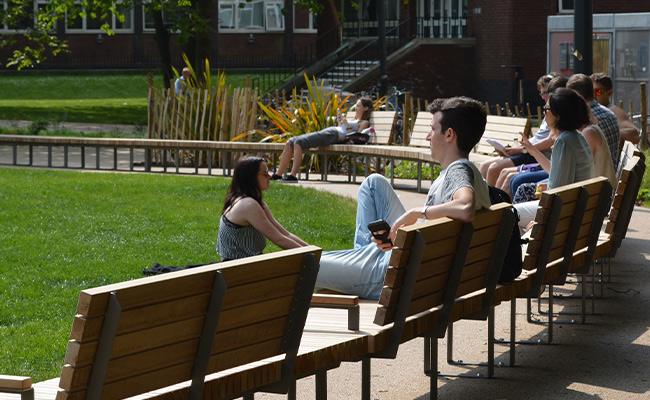 Benefits of well-designed Campuses
We understand that providing well-designed and inviting external spaces is important to the university experience as a whole – these are the spaces that will greet students when they begin their journey in higher education – they are the spaces that the students will travel between for classes – social spaces to meet new friends and make new connections – these spaces will be their homes for these important and formative years – their green spaces and gardens.
A well-designed landscape will help nurture the University experience by providing an inviting atmosphere for existing and prospective students to spend time outside and can reduce anxiety and improve mental health.
Social outdoor spaces
When choosing external furniture for campuses, consideration must be given to the durability of products, and that they are not only inviting but easily combined to create social configurations.
We offer an extensive range of street furniture from award-winning designers from all over the globe as well as our in-house range, available in a variety of materials and finishes ideal for creating meeting spaces and outdoor studying.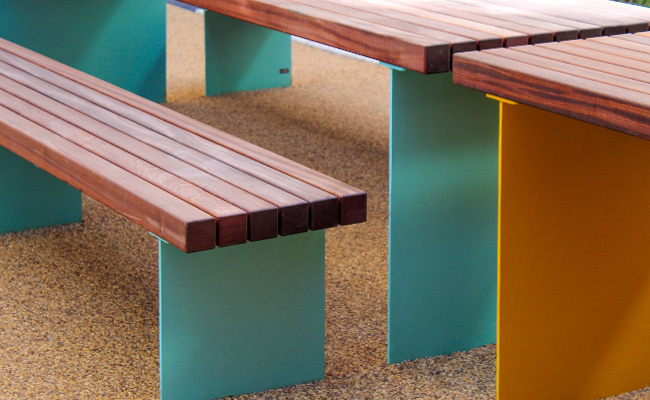 St Marks Student Village at Lincoln University has benefitted from a range of our Greengate benches and picnic tables featuring a vibrant powder-coated finish to create unique and eye-catching seating arrangements. These units have been combined to create communal seating areas with opened ended tables that allow for wheelchair access. (View the case study here)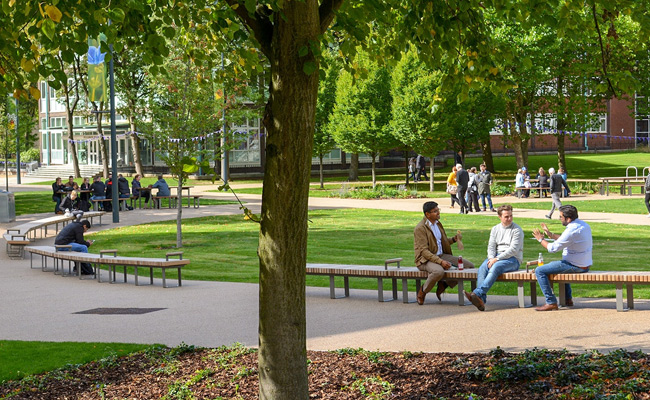 The Cobra Bench is a snaking modular bench that creates long runs of seating which act as a landscaping border. At Brunswick Park, a green space at the University of Manchester, the adaptable bench has been used alongside the curved pathways joining campuses and university buildings. (View the case study here) 
Focal Points
At the same location Brunswick Park, we supplied a large tiered bench opposite the historic Manchester Museum building. This has now become a focal point for meetings, events, and graduation celebrations. (View the case study here)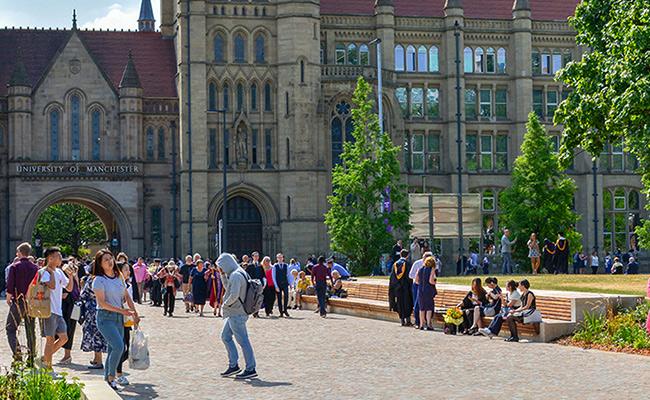 This podium-style seating arrangement creates an inviting social centrepiece - a similar design has recently been featured at the University of East London Docklands Campus and overlooks the arriving and departing flights from London City Airport that can be seen from across the river.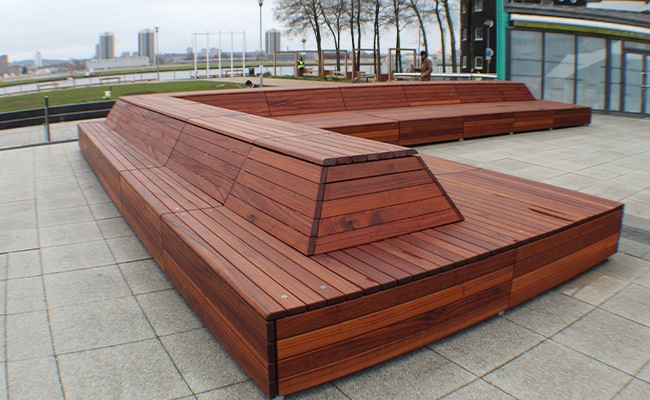 Student Accommodation
BSFG has unrivalled experience in the purpose-built student accommodation sector having worked alongside a number of contractors and landscape architects to deliver exceptionally high standards of living. 
Roof terraces
Like other amenities in student housing such as on-site gyms and cinema rooms, a sought-after and crucial requirement is accessible and secure outdoor spaces. In 'built-up' urban areas where space is at a premium, Roof Terraces are often the solution.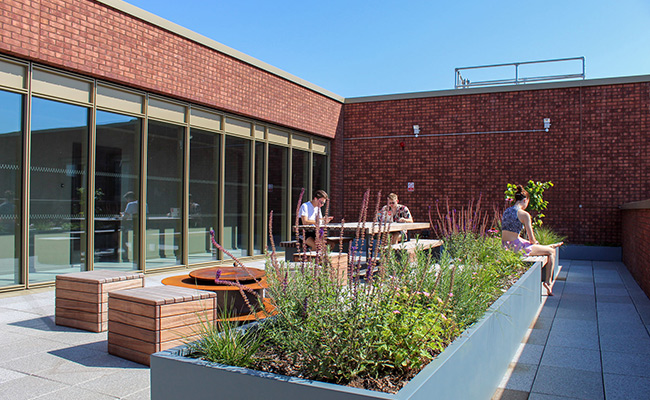 Not only do they provide much needed outdoor space for residents but they also bring environmental benefits to urban areas - planters with integrated seating can create social areas for residents while also bringing a host of environmental benefits such as natural colour and a bed for pollinator-friendly plants as well as absorbing water run off and sounds. 
Alliot House student halls of residence in London has 2 roof gardens with views overlooking the city and nearby reservoirs. The roof gardens are furnished with Greengate Benches and a number of our Belgravia planters bringing natural bursts of colour to the space. (View the case study here)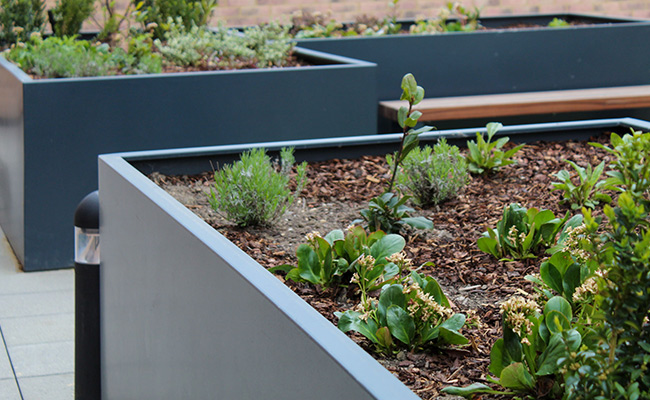 The aluminium planters are designed and manufactured in sections making delivery to spaces such as roof terraces easier as they can be transported through the buildings and assembled in situ.
Secure Cycle Parking
Cycle parking is another essential amenity that should be supplied to residents at Student Accommodations. Similarly, in regards to lack of space, there is a requirement for ingenuity to meet this need and many student halls accommodate cycle parking by providing inbuilt parking facilities - by using a space-saving cycle storage solutions such as Semi Vert Cycle Racks or Double Decker Cycle Racks we can ensure that optimal use of space is achieved with a high level of security and protection from the weather.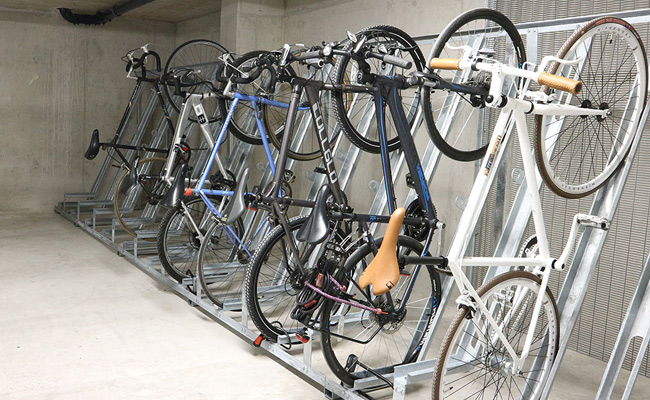 The Bailey Street Furniture Group offers a unique take on external spaces; from playgrounds to public realm, we have over 35 years of industry experience delivering high quality and functional outdoor environments efficiently and hassle-free.
For more information contact the team on 01625 322888 or email enquiries@bsfg.co.uk. To view the company's range of high-quality street furniture visit their website www.bsfg.co.uk