Intelligent Street furniture design that is adapting to the everchanging urban environment
Posted on 21st September 2020

As the World tiptoes tentatively into a new post Covid landscape, we celebrate all that's new and innovative in the world of street furniture. How can we make our personal bubble better?
Street Furniture is a collective term generally used in western society for objects and equipment installed within our street environment and used for various purposes. This group includes benches, bollards, traffic barriers, post boxes, phone boxes, street lights, bus stops etc. The design and placement of such furniture should and often does take into account aesthetics, visual identity, function and of course, pedestrian and road safety.
Often overlooked, our street furniture contributes (or has the potential to contribute) greatly to a city's overall design aesthetic. It can refresh a public space and offer both a new function and meaning. Maybe this is what we will all be searching for in our new normal? We can take an alternative view on our street structures old and new and consider their impact both functionally and otherwise.
Hello Wood created a line of outdoor furniture with smart functions for community spaces. Reimagining the genre of public furniture, they designed visually engaging and functional installations, featuring a lighting system and USB outlets, which required the integration of solar panels and batteries. The Snake is a modular structure; its elements are variable to fit the given site. The Fluid Cube is a fixed unit with a glass top featuring solar cells. The studio believes that the purpose of design is to turn articles of everyday use into loveable objects.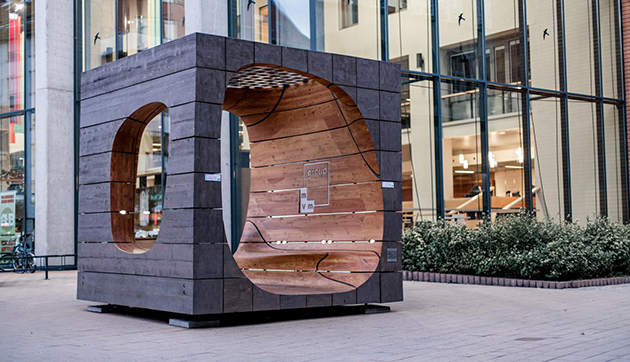 The Parklet Bench designed by WMB Studio can be found on London Bridge. It's unexpected and your encounter is designed with the sole aim to disrupt your routine, to interrupt your commute or simply to make you look up. Just as Covid has disrupted our 9-5 slog, our routine, street furniture also has the power to force us to re-engage, re-evaluate and consider how we want to proceed.
As we know street furniture has the ability to bring together a community, even an isolated one. In a world of social distancing and with the fear of loneliness hanging above our heads, now more than ever street furniture can conjure up new opportunities for spontaneous meetings, social and functional interaction that can no longer comfortably take place indoors.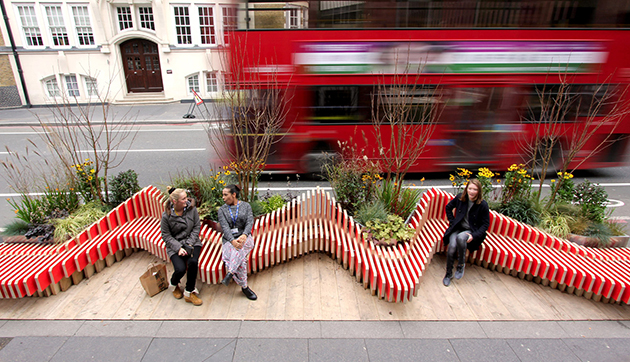 Italian practice Caret Studio has installed the StoDistante installation in an Italian square to encourage social distancing as a temporary solution for reactivating public spaces after Covid-19 lockdown ends.
The StoDistante installation features a 1.8-metre grid of squares painted onto the cobblestones of Piazza Giotto, a square in the town of Vicchio near Florence, Italy.
The white markers act as visual representations of the social-distancing advice circulated by the Tuscan authorities to slow the spread of the Covid-19 virus.The white squares are made from removable paint, and have been added to the cobblestone floor of the public area in a lattice-like layout to act as a marker of how people can safely navigate around the square.
When the pandemic is over, the water-resistant paint can be easily removed, and the square can revert back.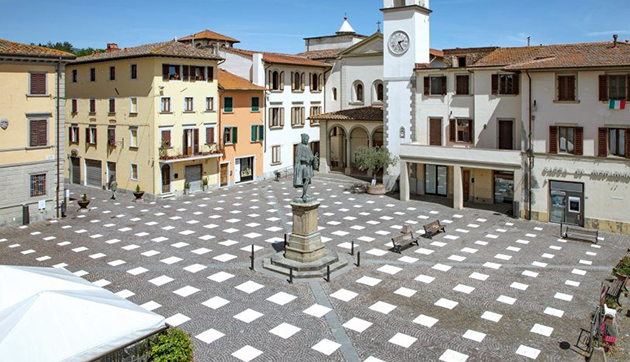 Never before has the renovation of public spaces been more important. As we are seeing in schools, offices and city streets not only must our environment be pleasing but it also needs to provide a hygienic and safe environment. Every street, park and square must of course create a friendly, pleasing feel but there is also now a real desire and drive to reinvest in our city and centres, to pedestrianise more areas and promote cycling with the backing of a huge government investment. All of this requires comprehensive renovation of all our urban spaces, promoting a more open and healthy environment, a positive way forward and a more considerate and friendly approach for both visitors and residents. Our tourism industry needs to present clean inviting places that are safe to travel through and stay. Our street furniture plays a pivotal role here. Users enjoy high quality pieces that are robust and in good condition. We need to convey a positive image. Post Covid the very use of street furniture is becoming increasingly diverse. Meeting points are now needed for office workers. The street furniture must be well distributed and on hand whilst all the time promoting a cleaner safer environment.
In the sudden scramble to find more space for people, we need to now rewind and take the space from cars, we need to redistribute.
In early May, the nonprofit organisation Better Block turned a parking space into a "parklet", a tiny temporary park in the city's Arts Bishop District. Occupying an empty parking space, the parklet — a simple, timber-clad deck with a built-in bench which allows the restaurant that maintains it to provide outdoor seating without taking over the pavement. The City of Dallas has since launched a temporary parklet program to assist local businesses in their economic recovery. Crucially, parklets aren't just about restaurant seating: They've been used for myriad other functions, including micro-playgrounds, an outdoor art show, a bike rack, and even an outdoor library.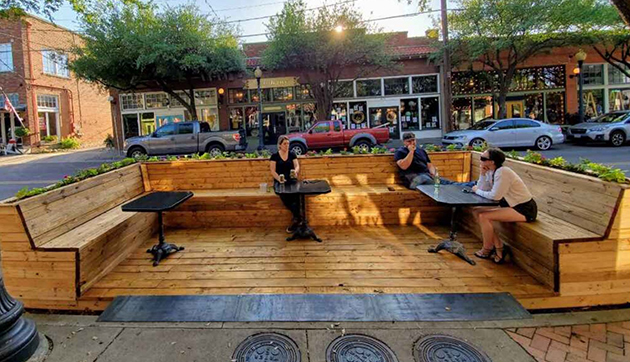 In the Czech Republic, local firm HUA HUA Architects has developed a space grid initiative that reconciles the public realm with al fresco dining. The Gastro Safe Zone initiative, which launched in March, aims to transform city squares into safe and defined zones for outdoor dining — a bit like a regulated, open-air food court.
Every zone is surrounded by a circle of tape, with a non-movable, one-piece dining set in the middle, akin to a metal picnic table. The first prototype has already been installed in the streets of Brno, where a confirmed pilot program will soon convert the city's public squares into "gastro safe zones". The architects have also launched a furniture brand named Stoolky, which offers dining sets in different colours and a varying number of seats. After Covid-19, the furniture can be reused in parks, playgrounds or as street furniture.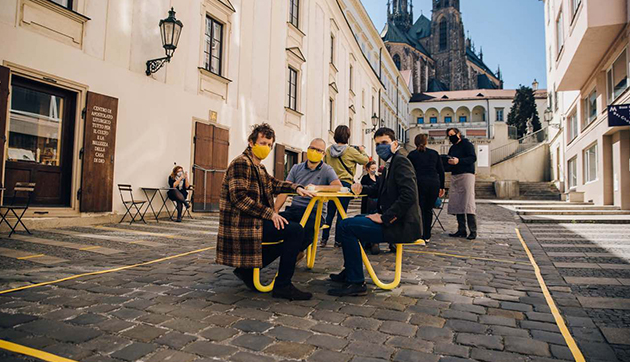 In the future, social connections in cities and villages will be built around street furniture. Street furniture will greatly contribute to the well-being of citizens in a city. Trends are changing and developing to offer decision-makers products that are more adapted to the new usage requirements and it is therefore essential to imagine and consider all the uses that street furniture will have to have.
Using exclusive UK partnerships with leading manufacturers and design studios on the global street furniture stage, Bailey Street Furniture Group are able to provide world class, exclusive collections of integrated public realm furniture to enhance any external works scheme. They also provide a full and professional consultative service on tailored and bespoke street furniture design, either adapting an existing product in the range or developing street furniture concepts from the outset. 
For more information on the Bailey Street Furniture Group please contact their team on 01625 322888 or email enquiries@bsfg.co.uk. To view the company's range of high quality street furniture visit their website www.bsfg.co.uk