What are the origins of bollards?
Posted on 15th March 2022

The bollard is a short vertical post, derived from the word 'bole' meaning tree trunk. Bollards were initially used for the purpose of mooring ships on docks – the design over time has moved inland and become a highly common structure in the urban environment for vehicle mitigation and traffic control offering protection to pedestrians and infrastructure.
Dating back as far as the 17th and 18th centuries, old cannons were used as mooring bollards around quaysides. The cannon would be buried, 'muzzle' first leaving the rear, 'the breech' above ground to attach the ropes. This cannon style was then adopted in the 19th century when bollards were mass-produced in cast iron in the shape for inland urban use.
Basic timber posts have been documented for use as traffic management and infrastructure protection since the beginning of the 18th century in historic paintings and engravings.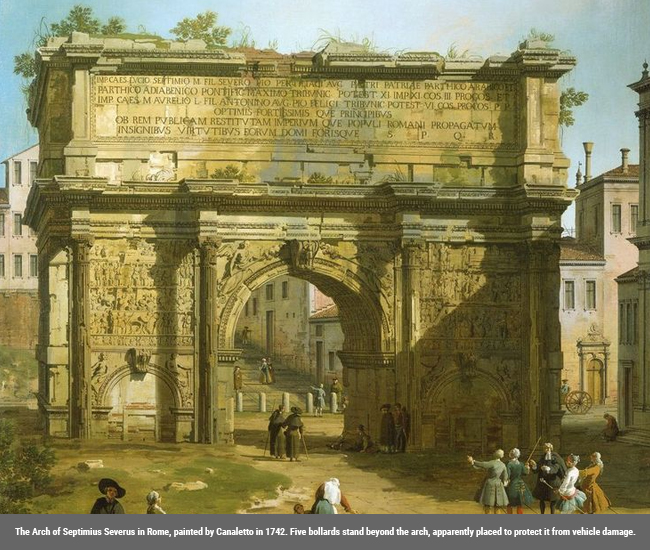 Over the centuries there have been many variations on the design and materials used for bollards. These days bollards serve multiple purposes from wayfinding to lighting, they can be integrated with vehicle charging points and can double as cycle stands, telescopic and fold-down bollards offer convenient selective restricted access.
As the number of vehicles on the road has increased the impact strength of bollards has been adapted and reinforced. For areas that are susceptible to potential attack whether intentional ram raids robberies, hostile vehicle as a weapon attack or accidental impact, bollards have been designed and impact-tested in accordance with one or more of three major crash test ratings, these are PAS 68 (UK), IWA-14 (International) and ASTM (US).
Bailey Street Furniture Group offer an extensive range of bollards of all types and materials, from traditional cast iron bollards that hark back origins of the bollard to progressive and contemporary designs that utilise the latest material and technical developments.
The FGP illuminated bollard from Artform Urban Furniture features an organic form and is created by three elegant stems that rise fluidly from the base. Each stem combines to form a soft triangular-shaped head that holds LED bulbs. The bulbs are arranged as such to cast light between the vertical and onto the pathway. LED light sources are efficient and a sustainable way to light an area. Each bollard is powder-coated to create an overall stylish and contemporary look. The FGP illuminated bollard can be grouped or configured in many ways and has a full collection of complementary street furniture elements to create an individual and striking look to any space. Far-flung from the bollards of the 18th century!
For more information on the Bailey Street Furniture Group please contact their team on 01625 322888 or email enquiries@bsfg.co.uk. To view the company's range of high quality street furniture visit their website www.bsfg.co.uk