BSFG Product Focus: The simple but ultimately versatile Heron Shelter by Bailey Streetscene
Posted on 18th July 2022

The Heron Shelter by Bailey Streetscene is a simple but robust structure. Classic in design but ultimately versatile, the Heron has multiple uses. It is perfect in many settings for use as a shelter, walkway, canopy or cycle storage.
The shelter features a cantilevered design with a sturdy roof section incorporating guttering for water discharge. The robust steel frame is hot dip galvanised to BS EN ISO 1461 and can be powder coated and clad in PET UV stable clear sheeting.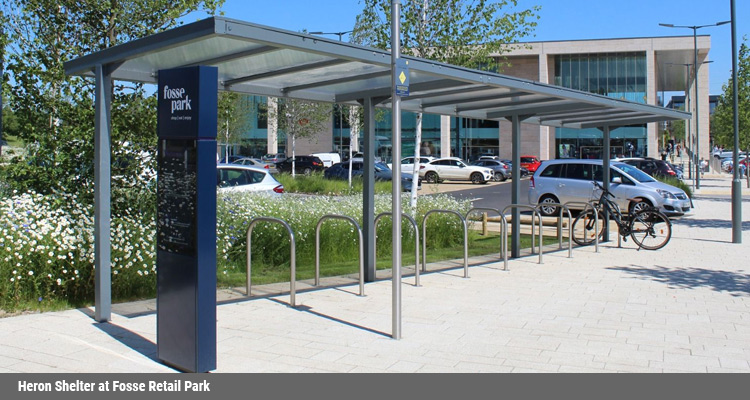 The main body of the structure can be clad in standard plastic that is 80% light transmissible, coloured, opaque or smoked grey depending on your specification.
All our Shelters can be manufactured to be BREEAM compliant.
Many of our clients like to customise this shelter to meet specific needs. Options are available such as surface of root fixings, cycle parking, bespoke sizing and importantly security additions are available.
Jaguar Land Rover, a luxury vehicle brand, worked with Laing O'Rourke to develop the landscaping of the £185 million Gaydon Triangle Project.
A lengthy 109m bespoke walkway canopy was specified with coordinating external furniture for the landscaped area of the site. The Canopy utilises the design of the Heron with a bulked-out reinforced structure that has been clad in timber and has integrated lighting.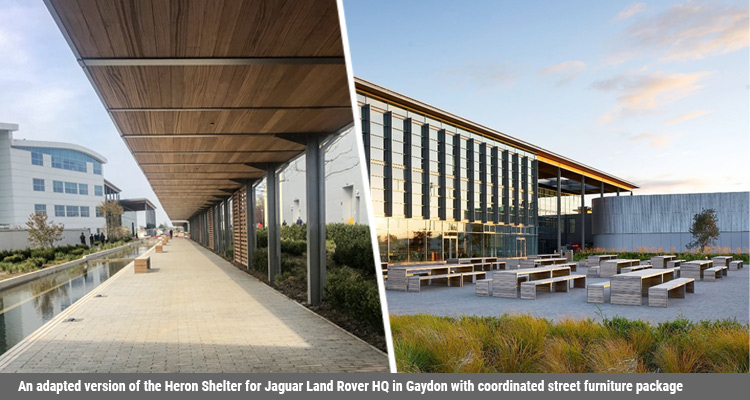 Bailey Streetscene successfully took the project from design concept through to manufacturing and installation. There were many challenges to this project, Importantly there needed to be synergy across all materials, coordination of colour, materials, and lighting to meet the high standards of the client.
The result of the group's capabilities was a stunning contemporary walkway and distributed seating, that is in keeping with the high-quality design expected from visitors and staff at the Jaguar Land Rover Group.
Bailey Streetscene is part of the Bailey Street Furniture Group, a privately owned collection of individual companies serving the construction sector, providing a wide range of street furniture, playground elements and associated services to the public realm, commercial and educational schemes throughout the UK.
For more information on the Bailey Street Furniture Group please contact their team on 01625 322888 or email enquiries@bsfg.co.uk To view the company's range of high quality street furniture visit their website www.bsfg.co.uk