BSFG Brand focus: Architectural & World Class Street Furniture from Artform Urban furniture
Posted on 11th July 2022

BSFG Brand focus: Architectural & World Class Street Furniture from Artform Urban furniture
Artform Urban Furniture has an aim to inspire both landscape architects and clients to create functional outdoor spaces that enhance and benefit our everyday lives. Investing in well-designed outdoor spaces is not only important for our physical health but that of our mental well-being too.
Artform Urban use leading-edge technology and work with world-class designers to create innovative urban furniture collections in line with emerging trends and technology that reflect on the needs and requirements of society as a whole.
Working with exciting global design partners

Landscape Forms is a street furniture manufacturer in the USA. They create design-led street furniture and have an outstanding reputation for high-quality materials and service. Perfectly in tune with our philosophy, they offer an integrated collection of architectural street furniture and advanced LED lighting. Working in partnership with Landscape Forms allows Artform Urban to provide some of the most stylish, functional, and importantly sustainable products on the market.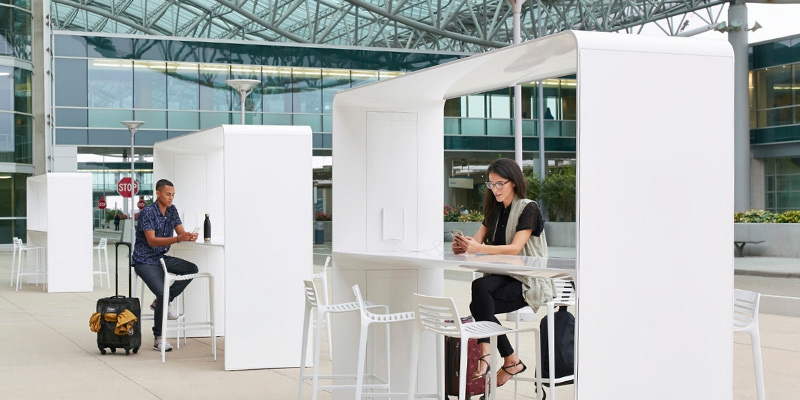 The GO Outdoor Table has an appealing sleek and simple profile that supports both formal and informal activities. It can host integrated technology and power and has a useful canopy offering shelter and glare reduction for better visibility for mobile devices. Go Outdoor allows people to stay connected outdoors.
A carefully curated product portfolio formed from collaboration

As a company Artform Urban also work in collaboration with Metalco. They produce a comprehensive and high-quality range of street furniture that can be manufactured in a variety of materials such as Corten steel, stainless steel, galvanised and powder-coated steel, high-performance concrete and FSC timber.
The range is extensive and includes seating, litter bins, cycle shelters, bus shelters, planters, bollards, barrier rails, tree grilles and signage. 
Metalco has redefined the concept of street furniture and how we perceive our outdoor spaces. They have understandably won numerous awards for design.
Importantly sustainable, Metalco shows an impressive consideration for the environment and selects timber from certified forests that are responsibly managed.
They also use recyclable components and use energy for manufacture directly from its own photovoltaic system installed on the roof of its carbon-neutral factory. All these careful considerations fit with our vision for the future of architectural street furniture.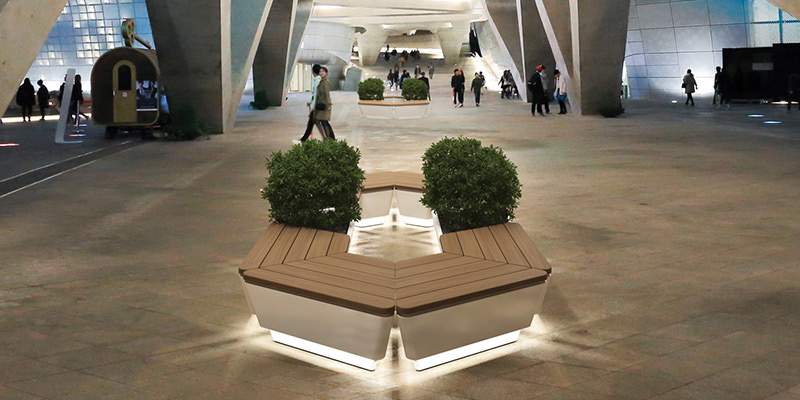 Spotlight on the Austen Bench and Planter. With its neatly tessellating flared shape, it can be configured in a variety of layouts, as a combination of planters or timber seats. As seen here it can also be fitted with LED lighting creating a stunning effect.
Bringing innovation and inspiration to urban spaces with colour

Out-sider, based in Copenhagen, has a clear design philosophy. They create colourful street furniture that is multifunctional and appeals to all ages. Their concept is to offer multifunctional products that feature integrated technology. Each piece has a cohesive form that is centred around a primary material such as Polyurethane or High-Pressure Laminate to achieve pieces that are distinctive in both form and colour.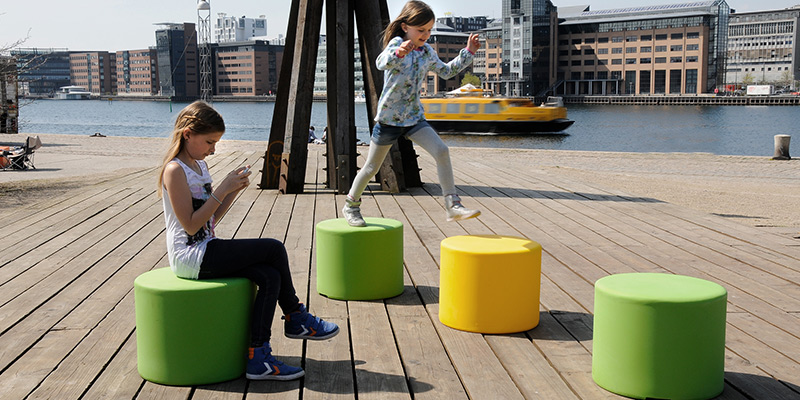 HopOp 500 is a pure and simple, cylindrical form of variable sizes that can be positioned at customisable heights and distances, inviting passers-by to sit, rest, play and jump! Inspired by low tree stumps the possibility of varied elements in the land and cityscape is wide and extensive. Each piece is suitable for recycling.
Bespoke Solutions - Design / Develop / Deliver
As well as an extensive range of award-winning and unique street furniture, Artform Urban are able to draw on innovation and expertise from across the globe with a full in-house Bespoke Design service.
The company boasts full Solid Works and AutoCAD design tools, two UK-based fabrication plants and a full assembly unit. Priding itself on the ability to create any street furniture and public realm elements to your exacting requirements and specifications. 
For more information on the Bailey Street Furniture Group please contact their team on 01625 322888 or email enquiries@bsfg.co.uk. To view the company's range of high-quality street furniture visit their website www.bsfg.co.uk