A Brief History of Bus Shelters
Posted on 21st March 2022

Between the 17th to the 19th century, horse-drawn carriages ran regular services between our towns and cities. Each service started and stopped at a designated coaching inn where passengers could board or alight. This was the earliest bus stop! The first bus line was opened in Manchester in 1824, it ran a fixed route allowing passengers to board.
Originally the bus stop infrastructure would have been a simple pole and sign. Rudimentary shelters would have become increasingly sophisticated as time went on with many having a partial roof. Modern bus stops were developed to be cast iron and glass constructions although in rural Britain they would have been brick or wooden. Some of these early examples can still be seen in seaside locations and illustrate an ornate and sturdy Victorian design.
In 1964 JCDecaux was founded with an innovative concept. Their Bus shelters featured a simple, clean design that provided shelter and seating for passengers at no cost to transit operators since the shelters were paid for and maintained by their advertising. JCDeceaux is still to this day the world leader in bus shelters and outdoor advertising.
The bus shelters of today offer passengers not only protection from the weather but also smart technology. Many bus shelters feature wireless charging, public information, digital and interactive advertising particular to each area. Complementing the landscape, they are made from powder-coated steel or aluminium frames. Some have green roofing that absorbs carbon dioxide, benefits our environment, and even attracts pollinators.
Bailey Street Furniture Group have a range of waiting and bus shelters in both contemporary and classic designs which can include a host of integrated features.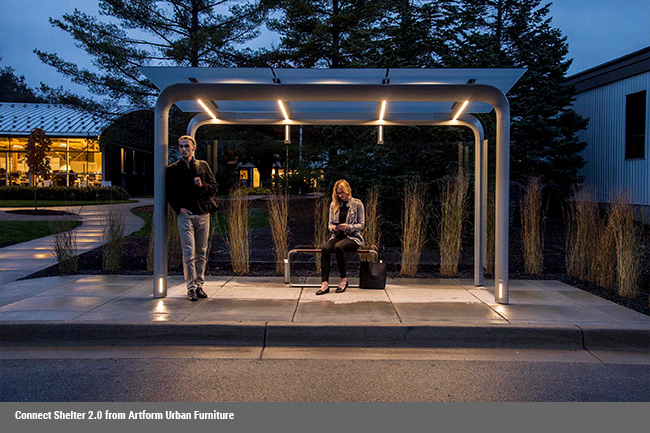 The ultra-modern Connect Shelter 2.0 Shelter elevates the transit experience with a visual simplicity and quiet sophistication that complements the surrounding architecture and landscaping. 
The shelter's integrated and layered LED lighting subtly illuminates the shelter's interior and immediate surroundings. Lights can be powered via grid or solar panels.
For a more traditional shelter design, The Douro Bus Shelter draws on our historic bus stops and is available as a 2.5-metre version or a 5.0 metre. Both designs include shatter-resistant glass on the back and to one side.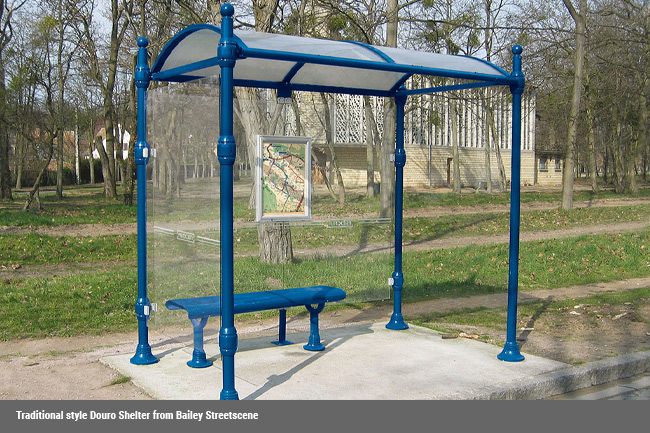 The frame is a 76mm diameter aluminium tube with decorative features. The roof comprises three curved aluminium profile arcs, two aluminium crossbeams 40mm x 60mm x 3mm and two aluminium profiled rainwater gutters. The canopy is 6mm translucent cellular polycarbonate that is impact and fire-resistant with UV protection. The canopy is inserted into the gutters and between the curved aluminium profile roof bows.
The bus shelter can be painted in any RAL colour allowing the shelter to fit seamlessly into the surrounding area. Choose either a historic traditional feel in black or a contemporary contrasting colour to make sure no one misses their bus!
 For more information on the Bailey Street Furniture Group please contact their team on 01625 322888 or email enquiries@bsfg.co.uk To view the company's range of high-quality street furniture visit their website www.bsfg.co.uk